In the news......
 
Taking a page from the East Coast Music Awards, The Juno Awards are releasing the details of the big show piece by agonizing piece. But far be it from us to prevent you from hearing about those pieces. There are four new additions to the list of performers you will see live from Winnipeg.

Said additions are Billy Talent, K-OS, Simple Plan and K.D. Lang. All four will join the previously announced performers Neil Young and The Tragically Hip. Both Billy Talent and Simple Plan are making return appearances at this year's Junos as both played last year's show in Edmonton as well.

Also announced today from the Juno head office is that Early Bird Juno ValuPaks will be on sale for one day only. These packs include a ticket to the Juno Cup, the celebrity hockey game, a ticket to the Songwriter's Circle concert, a JunoFest wristband to go to any of the pre-awards shows and a seat at the Awards themselves. On February 11, starting at 11 a.m. you will be able to pick up one of these packs from Ticketmasters across Canada for $119.95. There will be a limit of four packs per person.

For those who don't want to do go hog wild during Juno week but would still like to go to the show, tickets for the actual ceremony will be going on sale across the country on Saturday, February 12 at 11 a.m. They will only be available at select Ticketmaster outlets, so you may want to check in advance. Tickets will range from $40 to $116 and there will be a limit of four tickets per person.

Finally for those who can't make it to Winnipeg for the show. You can watch it all live Sunday, April 3 at 8 p.m. on CTV.

-Stephanie Joudrey
Billy Talent Raises Over $3,000 For Kids Help Phone
Published: 2005-02-02
Many people across the continent are familiar with alt-rock band Billy Talent's haunting new single "Nothing To Lose". Relaying the lyrics of the song into visuals, the video depicts a youth who commits suicide due to the pressures teens can face on a daily basis. The Toronto quartet is well aware that North American youth just need someone to talk to, and as such have used the song as way to help support the Kids Help Phone.

Not only does their video list the number for the organization (that'd be 1-800-668-6868), but Billy Talent decided that for every spin "Nothing To Lose" receives, they will donate $1.00 to help keep the Kids Help Phone running. So far the band has raised $3,145 for the program, and seeing that "Nothing To Lose" is the most popular single of Talent's career to date, more is on its way.

"As a band we are so amazed how generous everyone has been with our cause and want to thank everyone at every radio station and television stations especially MuchMusic, MusiquePlus and MTV for playing the song," says lead singer Ben Kowalewicz. "Most importantly we want to thank all the fans that have supported us and requested the song."

Manned by professional counsellors, Kids Help Line and Parent Help Line helps literally hundreds of thousands of people each year. In 2003 they answered nearly 360,000 calls from Canadians, discussing issues like loneliness and suicide. Go to www.kidshelpphone.ca for more information.

Writer: Jaclyn Arndt
Holiday Gift Guide: Music Picks By Billy Talent's Ben Kowalewicz
Friday December 10, 2004 @ 02:30 PM
By: ChartAttack.com Staff

Billy Talent
Billy Talent

Buying holiday gifts of music can be a tricky business. Sure, you know what discs you'd like to see in your stocking, but what do you buy your little sister, your dad or that cousin you only see twice a year? ChartAttack rounded up some of Canada's top musicians to give their recommendations on what cool records to buy for those picky people on your gift list.

Today's subject is Ben Kowalewicz of Billy Talent. 2004 has been a banner year for the Billy Talent fellas-they've been riding high on the success of their 2003 self-titled album and have toured just about every corner of this country over the past year. Amazingly, Kowalewicz has found time to actually listen to music by other bands-here's his picks for your holiday shopping list:

1. What record(s) would you buy your parents as a holiday gift this year?

I would buy my folks the new Rod Stewart album so I could watch them barf up their egg nog.

2. What record(s) would you buy an older brother who had a great collection when he was young, but hasn't bought anything since 1992?

Well... I would buy my brother or lend him the new Blood Brothers record. It's just amazing.

3. What record(s) would you buy a younger sister who's really into mainstream pop but is ready to branch out into something a little different?

I always wanted a little sister and if I had one I would like and support anything she was listening to, even pop. But I think I would give her the Feist record. I love that album-nice and easy but cool as fuck!

4. What record(s) would you buy your best friend, who loves music as much as you do?

I honestly would give my friend the new and remixed Ready To Die by Biggie Small! To remember the good ol' days.
Important Dates:



February 2005(BT heads to the studios)



March/April 2005 (expected release of second album)
Who would've thought?





Billy Talent will be releasing a video for "Nothing to Lose" on December 9th. The video premier will take place on Much On Set...If you do not watch this I will destroy you.

THE BILLY TALENT DVD WAS RELEASED TODAY!(11/23/04)...GET YOUR ASS'S OUT AND PCK UP THIS COOL SHIT

Billy Talent: Scandalous Travelers
Track Listing:
-Scandalous Travelers Video (58 mins)
-Behind the Scenes Stills Gallery
- Bonus Footage: Live concert footage "This is How It Goes", "Cut The Curtains", Line & Sinker", "Living In The Shadows"
- Live acoustic sets: "Standing In The Rain", "Lies", "Try Honesty"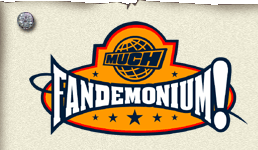 The results are in, Adam wins the top prize on Much Fandemonium

Well, not to much to report for news, but here's whats happenin' with the boys:
They are finishing up a cross canada stint with Metric and DFA 79, then will head home for three months, and bury themselves in paper and pens to write the new album.
Once they are done with that, they will head into the studios around early Feb to record, then kick off the new tour in the U.S.A, then head across the pond for a tour in Europe
No this is news, not an article:
Billy Talent Selling Records And Doing Good In The World
Thursday October 21, 2004 @ 02:00 PM
By: ChartAttack.com Staff
It might not be as dramatic as Soul Asylum's 1992 "Runaway Train" video, but the guys in Billy Talent are helping out the Kids Help Phone with their new single. Every time the song gets radio play in Canada, the band will donate a buck to the help line's cause.
"Nothing To Lose" saw official release on October 7, but the band will be counting every spin of the track from September 17 to the end of the year, with monitoring company Mediabase keeping a tally of the numbers.
It's a pretty classy move, combining promotion for the new single with a real effort to give something back to the messed-up kids who made Billy Talent popular in the first place. The band's previous single, "River Below," received 6,500 spins across the county, so if "Nothing To Lose" does well, it'll be a nice boon for the Kids Help Phone, an anonymous call-in service that provides help, counseling and information to children in bad situations.
Sadly, last year alone, the service answered 363,000 distressed phone calls and online questions.
"Nothing To Lose" is the fourth single off Billy Talent's hit debut LP, which just passed the 200,000 mark in sales in Canada. The Canadian Recording Industry Association awarded them double platinum status last month. Other artists to get a nod from CRIA include The Tragically Hip, whose latest, In Between Evolution, hit platinum (100,000 units, for you math underachievers). Sarah Harmer and Alexisonfire both had their latest discs achieve gold status, meaning 50,000 sold.
The Billy Talent lads, meanwhile, just stepped off the road after a 14-month tour, and they aren't taking any time off — right now they're busy working up material for a sophomore album.
—David McDougall



Now playing: Try Honesty
Lyrics:
Well, I tripped,
                                    fell down naked
                                    Well, I scratched my knees they bled
                                    Sew up my eyes, need no more
                                    In our game, there is no score!
                                    
                                    Forgive me father why should ya bother
                                    Try honesty, try honesty
                                    Hop in your dump truck, reverse for good luck
                                    Ride over me, ride over me
                                    Take on the whole world, fight with the young girls
                                    Die tragedy, die tragedy
                                    Call me a cheapskate, come on for pete's sake
                                    Cry agony, cry agony
                                    
                                    Insane assault, so sly
                                    Your well of lies ran dry
                                    I cut the cord, free fall
                                    From so high we seem so small!
                                    
                                    Forgive me father why should ya bother
                                    Try honesty, try honesty
                                    Hop in your dump truck, reverse for good luck
                                    Ride over me, ride over me
                                    Take on the whole world, fight with the young girls
                                    Die tragedy, die tragedy
                                    Call me a cheapskate, come on for pete's sake
                                    Cry agony, cry agony
                                    
                                    I'm insane, it's your fault... cry!
                                    
                                    Forgive me father, why should ya bother now?
                                    Forgive me father, why should ya bother now?
                                    
                                    Forgive me father why should ya bother
                                    Try honesty, try honesty
                                    Hop in your dump truck, reverse for good luck
                                    Ride over me, ride over me
                                    Take on the whole world, fight with the young girls
                                    Die tragedy, die tragedy
                                    Call me a cheapskate, come on for pete's sake
                                    Cry agony, cry agony